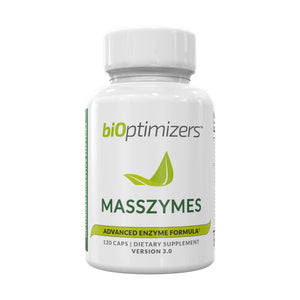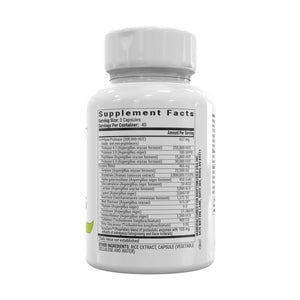 Ensím - Masszymes
Hefðbundið verð
Afsláttarverð
5.690 kr
Vsk. innifalinn
---
Bættu á þig vöðvamassa sem aldrei fyrr með því að breyta 1g af próteini í 3g!
Masszymes frá BiOptimizers er ein áhrifaríkasta ensímblandan á markaðnum og góð fyrir meltingarvandamál - öflug blanda sem brýtur niður prótein, fitu og kolvetni á skilvirkan hátt.
Eykur frásog vítamína og 

lykil-amínósýra

Bætir meltingu og heilsu þarmanna - gott fyrir uppþembu, bakflæði, hægðatregðu og niðurgang. 

Eykur orku, einbeitingu og skýrleika

Veitir hraðari vöðvaendurheimt eftir æfingar - tilvalið fyrir íþróttafólk!

Hvert hylki inniheldur 100.000 eintök af meltingarensíminu Protease sem brýtur niður prótein.

Vegan, án glútens, mjólkurvara og soja 
Af hverju Masszymes er öflugasta meltingarensím í heiminum:
100% plant-based og náttúruleg blanda 

Inniheldur háan styrk ensíma sem eru virk á ýmsum sýrustigum - tryggir bestu mögulegu meltingu um allan meltingarveginn

Mjög hátt hlutfall ensíma sem melta prótein, sterkju, sykrur, trefjar og fitu

Hámarkaðu meltingu og upptöku næringarefna

Léttir á meltingartruflunum, lofti, uppþembu og þreytu eftir máltíðir

Inniheldur bæði próteinmeltandi meltingarensím og enfaskiptaensím

Gott að taka Masszymes með máltíð til þess að bæta meltingu og auka frásog næringarefna

Hægt að taka Masszymes á tóman maga fyrir aukin efnaskipti

Bætir endurheimt eftir æfingar og endurnýjun vefja - sem er mikilvægt fyrir heilun sára og endurnýjun húðar

Framleitt í litlu magni með "medical-grade" innihaldsefnum

Ófullkomin melting próteina getur valdið ofnæmi og/eða fæðuóþoli.

 Masszymes er hannað til þess að hámarka meltingu próteina og lágmarka þar af leiðandi bólguástand í líkamanum.
ENGLISH:
FULL SPECTRUM DIGESTIVE ENZYMES CRANK YOUR MUSCLE GAINS TO NEW HEIGHTS BY TRANSFORMING 1 GRAM OF PROTEIN INTO 3 GRAMS
Increase your absorption of key amino acids & certain vitamins
Experience better digestion & gut health
Increase your energy levels
Enhance your mental clarity and focus
Experience faster muscle recovery
Contains 100,000 units of protein-digesting enzymes per capsule
Vegetarian-friendly, vegan-friendly, dairy-free, and soy-free


WHY MASSZYMES IS THE BEST FULL SPECTRUM DIGESTIVE ENZYMES SUPPLEMENT ON THE PLANET:

100% plant-based, naturally-derived best digestive enzymes blend
Contains highly concentration of the best digestive enzymes that are active at a variety of acidity levels, which ensures optimal digestion throughout the entire digestive tract
Highly concentrated with best digestive enzymes that digest proteins, starches, sugars, fibers, and fats
Maximize digestion and nutrient absorption
Relieves indigestion, gas, bloating, and fatigue after meals
Contains both digestive and systemic protein-digesting enzymes
Take with meals to enhance digestion and nutrient absorption
Take on empty stomach for systemic enzyme benefits
Produced in small batches with medical-grade ingredients
Improve exercise recovery and tissue remodeling, which is important for wound healing and skin rejuvenation
Incomplete protein digestion can result in food fragments that can cause food allergies or sensitivities. Masszymes is designed to maximize protein digestion and minimize inflammation from food


When To Take Full Spectrum Digestive Enzymes
To get digestive benefits, such as reducing bloating, indigestion, and post-meal fatigue, take digestive enzymes with meals. To reap systemic benefits of plant proteases, such as improved exercise recovery, breaking down inflammatory proteins and scar tissues, and wound healing, take it on an empty stomach.

Plant proteases can provide both digestive and systemic benefits, and we would recommend adjusting the timing of your intake based on your goals. You can also take it both with and without meals, even on the same day. However, you should take it with food if taking supplements on an empty stomach causes upset digestion.

Please consult a physician before beginning any new supplement, diet, training program, or if you are undergoing treatment of a medical condition.
FULL SPECTRUM DIGESTIVE ENZYMES BENEFITS
Full Spectrum Digestive Enzymes Optimizes Digestive Function
Systemic Enzymes Promote Exercise Recovery And Balanced Immune Response
Improves Overall Energy Levels
Helps With Leaky Gut And Food Sensitivities
Promotes A Lean And Toned Physique In Combination With The Right Diet And Exercise
Improves The Absorption Of Minerals, Such As Iron And Magnesium
Improves Skin Health